VOLTERA V-ONE PCB PRINTER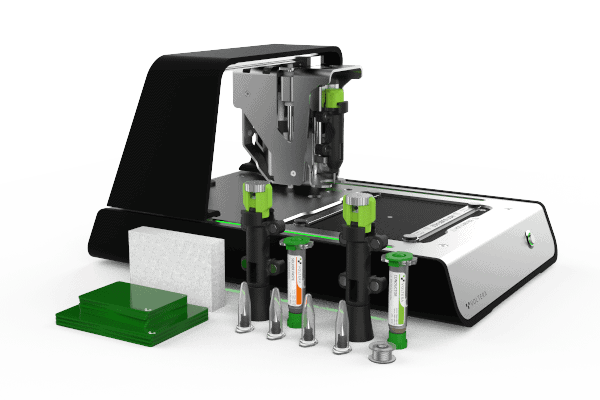 The V-One PCB Printer prints double sided PCBs, dispenses solder paste, and will help you explore new materials and substrates. Compatible with EAGLE, Altium, KiCad, Mentor Graphics, Cadence, DipTrace and Upverter. Print Area 128mm X 116mm Minimum Trace Width 0.2mm Minimum Pin-To-Pin Pitch 0.5mm
Print Area: 128mm X 116mm
Minimum Trace Width: 0.2mm
Minimum Pin-To-Pin Pitch: 0.5mm
TYPHOON HIL 402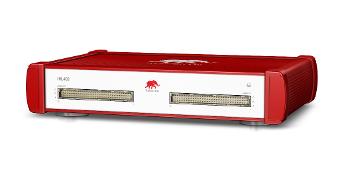 This compact, extremely powerful, 4-core HIL will give you all the tools you need to test your power electronics controllers in a wide range of applications: solar and wind power generation, battery storage, power quality and motor drives. Run your controllers in real time with 20 ns PWM resolution, in closed loop with high-fidelity power stage with 1 MHz update rate.
Processor - 4 Core
Channels - 16 x Analog inputs (AI) | 16 x Analog outputs (AO)/ 32 x Digital inputs (DI) | 32 x Digital outputs (D
Resolution - 16 bit
AIO range - +/- 10V
Connectivity - USB | Ethernet

TYPHOON HIL 602+
Processor - up to 6 Cores
Channels - 16 x Analog inputs (AI) | 32 x Analog outputs (AO)/ 32 x Digital inputs (DI) | 32 x Digital outputs (D
Resolution - 16 bit
AIO range - +/- 10V
Connectivity - USB | Ethernet | CAN | RS232 | High speed serial link
HIL uGrid DSP Interface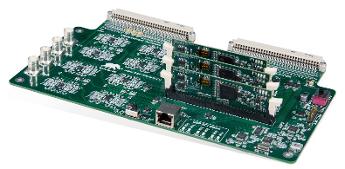 The Typhoon HIL DSP Interface for microgrid application, specially built for the C2000 family of Texas Instruments DSP DIM100 cards is the solution if you want to accelerate the development of multi-converter power electronics applications.
No. of Card Slots - 3
Supported TI control cards - TMDSCNCD2808 | TMDSCNCD28027, TMDSCNCD28035 | TMDSCNCD28069, TMDSCNCD28335
Connectors - JTAG | USB | CAN
Chroma Programmable DC Power Supply with Solar Array Simulation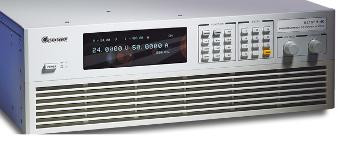 Programmable DC Power Supply 600V/17A/10KW with Solar Array Simulation
High Power Density
Precision V&I Measurements
Voltage & Current Slew rate control
Current sharing operation
Voltage ramp function (time range: 10 ms ~ 99 hours)
OVP, current limit, thermal protection
Standard USB / RS232 / RS485 interface
Optional GPIB / Ethernet interface
Solar array simulation function
Shade I-V curve simulation
I-V curve programming: 10 program / 100 I-V files
Chroma 63800 AC Load Simulator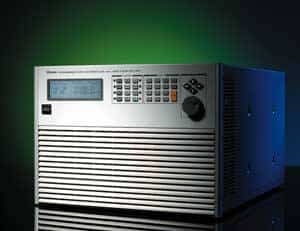 Chroma's 63800 1.8KW / 350V / upto 18A AC&DC Electronic Loads are design for testing uninterruptible power supplies(UPS), Off-Grid Inverters, AC sources and other power devices such as switches, circuit breakers, fuses and connectors. The Chroma 63800 Loads can simulate load conditions under high crest factor and varying power factors with real time compensation even when the voltage waveform is distorted. This special feature provides real world simulation capability and prevents overstressing thereby giving reliable and unbiased test results.
Parallel / 3-Phase Function
Frequency Range : 45 ~ 440Hz, DC
Crest Factor Range : 1.414 ~ 5.0
Power Factor Range : 0 ~ 1 lead or lag (Rectified mode)
Parallel / 3-Phase Function
Constant & Rectified Load Modes for AC Loading
Short circuit simulation
Full Protection : OC, OP, OT protection and OV alarm
Chroma DC Electronic Load Simulator
The 63200A 18KW / 600V high power DC electronic loads are designed for testing a wide range of power conversion products including AC/DC and server power supplies, DC/DC converters, EV batteries, automotive charging stations, and other power electronics components.
Battery Simulator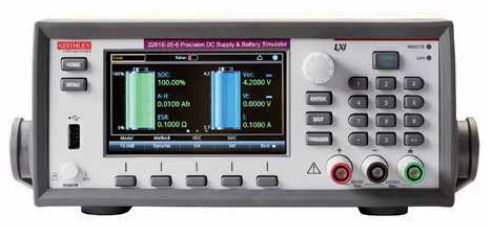 The 2281S-20-6 20V / 6A / 120W Dynamic Battery Simulator uses a model to emulate the response of a battery over its discharge cycle.
Altera DE2 115 Cyclone IV FPGA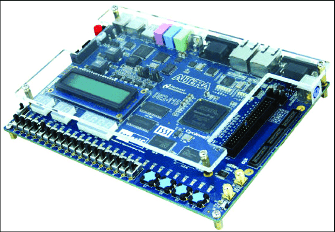 The Cyclone EP4CE115 device equipped on the DE2-115 features 114,480 logic elements (LEs), the largest offered in the Cyclone IV E series, up to 3.9-Mbits of RAM, and 266 multipliers. In addition, it delivers an unprecedented combination of low cost and functionality, and lower power compared to previous generation Cyclone devices.
TI Launchxl - F28379D C2000 Delfino Launchpad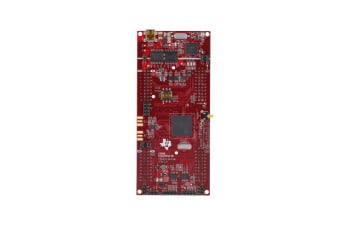 USB connected isolated XDS100v2 JTAG debug probe for real-time debug and flash programming
4 x 20-pin headers/connectors
Programmable buttons and LEDs
TMS320F28379D: 200 MHz dual C28xCPUs and dual CLAs, 1 MB Flash, 16-bit/12-bit ADCs, comparators, 12-bit DACs, delta-sigma sinc filters, HRPWMs, eCAPs, eQEPs, CANs, and more
C2000 Delfino Position Manager-ready TMS320F28379D MCU capable of interfacing to absolute encoders as well as resolvers and SINCOS transducers
Supports two BoosterPacks
Two encoder interface connectors
Isolated CAN transceiver connector
National Instruments Digital Electronics FPGA Board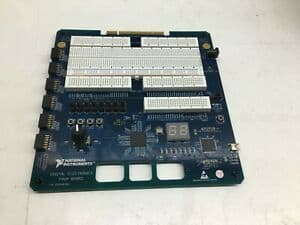 Programmable with both LabVIEW and Xilinx ISE tools
JTAG-over-USB connectivity
500,000-gate Xilinx Spartan-3E FPGA
8 LEDs, 8 DIP switches
4 push buttons
2 seven-segment LED displays
Large breadboarding and prototyping area included
12-bit ADC and DAC included
6 Pmod connectors
Yokogawa Mixed Signal Oscillator DLM3024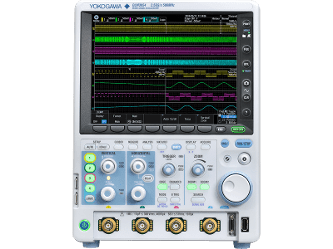 Yokogawa Mixed Signal Oscillator DLM3024 200MHz 2.5G samples per second with 4 channel has high accuracy, resolution in signal acquisition. Applications area involves : Hybrid and Electric Vehicles, In-Vehicle Serial Buses, Motor and drives, Office applicances, Power supplies (UPS, Inverters, DC-DC) and consumer electronics
Yokogawa Current and Differential Voltage Probe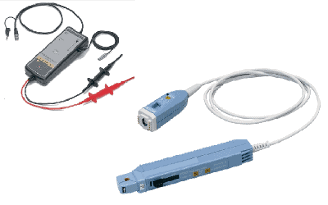 Current Probe:
Bandwidth: DC to 100 MHz; current measurement: Max 30 ARMS Inverter currents
Differential Voltage Probe:
Bandwidth: DC to 100 MHz (-3 dB)
Input attenuation ratio: switch between 1/10 and 1/100
Maximum allowed differential voltage: ±700 V (DC+ACpeak, 1/100)
Maximum common mode input voltage: ±700 V (DC+ACpeak) (1/10, 1/100)
Current and Voltage Measurement Modules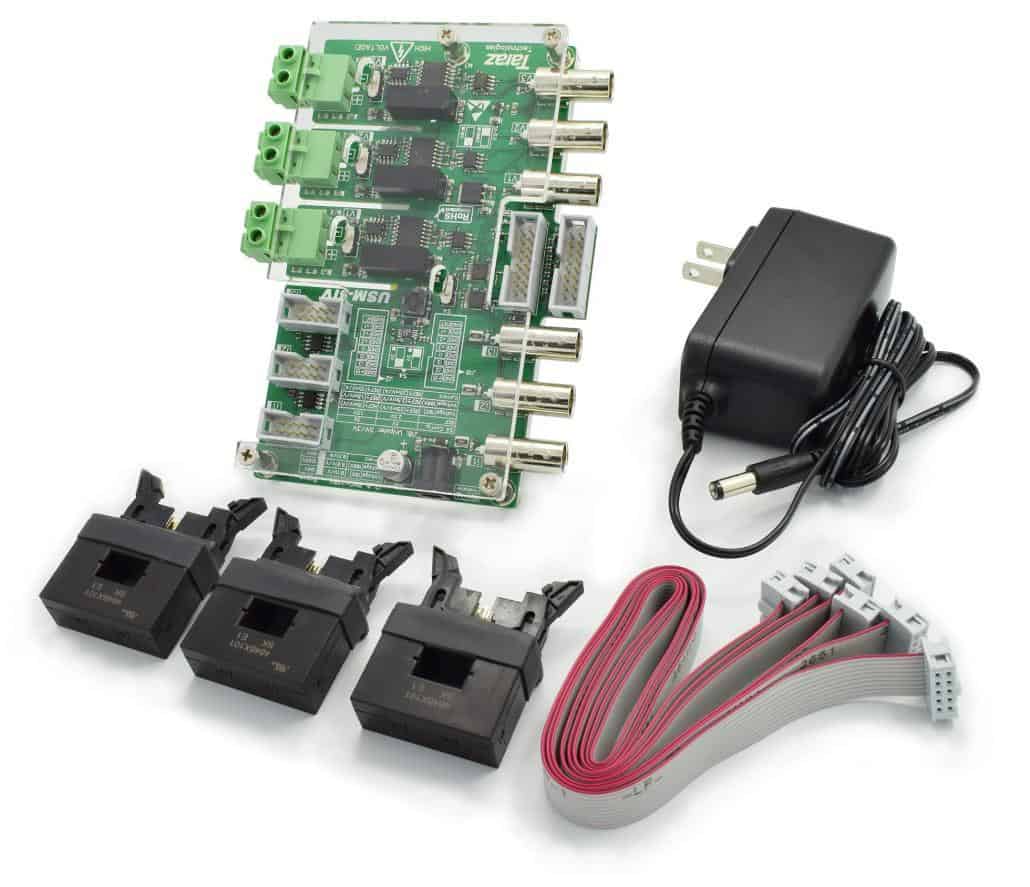 Selectable 10X (±100V) & 100X (±1000V) Voltage Ranges
±100A Current Sensing Range
Bipolar ±10V BNC Output for Oscilloscope & dSPACE
Selectable 3V/5V Unipolar Output for FPGA & DSP
Isolated 100kHz Voltage & 200kHz Current Bandwidth
Feedback of Power Electronics Systems
Converters & Inverters Control Feedback
3 Phase Systems Monitoring
Motor Drives Monitoring
SiC Inverter and Converter Modules
Single Phase and Three phase Inverter with SiC Switch module rated at 600V 2.4KW and 6.1 KW respectively
Half Bridge Converter with SiC switch module rated at 350V 1.2KW ready to use as Buck / Boost / Buck-Boost / Double switch DC-DC converter / Half bridge inverter / Solar PV MPPT applications
High Performance MOSFET / IGBT / SiC Driver modules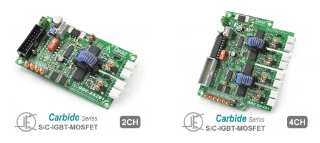 High performance fully isolated SiC/IGBT/MOSFET gate driver modules for 2, and 4 Switches, suitable for multi-phase inverters research projects. These drivers use Texas Instrument's ISO5852 smart and high-performance gate driver IC, and feature's dead time generation logic, fault latch logic, input and output indication LEDs, test points and built in 5V regulator which could be used to power up external control circuitry. It has a very high common mode immunity of 100 kV/us. Features of this driver includes,
Suitable for 1200V SiCs/MOSFETs/IGBTs Switching upto 50 kHz
Short circuit protection with soft shutdown
Active miller and output UVLO protection
Fault feedback and fault latch protection
Configurable PWM/Independent inputs with adjustable dead-time
Visual and electrical feedback with LEDs and test points