ASCE Student Chapter at Prince Sultan University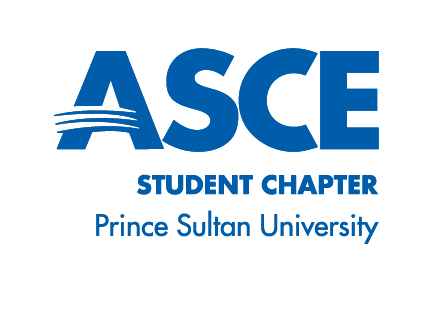 Student Chapter at Prince Sultan University
The College of Engineering (CE) is proud to announce the inauguration of the American Society of Civil Engineers (ASCE) Student Chapter at Prince Sultan University. PSU is the first private university in Saudi Arabia to receive such approval from ASCE.
ASCE Society Membership
There are seven grades of membership in the Society: Honorary, Distinguished, Fellow, Member, Associate, Affiliate, and Student Member.
ASCE Student Membership Benefits
List of benefits;
The right to identify themselves as Student Members of ASCE on correspondence relating to professional matters. (This is usually done by using the name in a letter, i.e. John E. Jones, S.M.ASCE).
The right to apply for scholarships (see the ASCE Official Register, available online, for information on available scholarships and application requirements)
Access to powerful online career resources in ASCE Career Connections devoted solely to civil engineering internships, jobs, and advice.
Opportunity to join the local Section or Branch, participate in their activities, and meet local practitioners.
Professional guidance through Mentoring Program.
Reduced fees on FE Review Courses to prepare for your exams.
Reduced fees on FE Review Courses to prepare for your exams.
Monthly issue of The Ladder a Student and Younger Member enewsletter.
Special technical and professional activity information bulletins by joining one of ASCE nine technical institutes.
After Graduation ASCE Member Value Continues
Advance Your Career
Stay current with; membership in the technical institute of your choice, free webinars on technical and leadership topics, access to the latest codes and standards, training.
Step-by-step tools and guidance to prepare and pass the P.E. exam with the; P.E. Review Course, study groups, guidelines for pre-licensure experience, Statistic: Course subscribers have a 90% exam pass rate.
After Graduation -- ASCE supports you in the early years of your career with dues that start at and gradually increase as you gain experience.
Membership pays for itself with; participation in the technical institute for your discipline, discounts on conferences and training, free webinars, a subscription to the industry-leading magazine for civil engineers, and opportunities for leadership that help you develop as leaders and advance in your career.
Develop the transferable leadership and project management skills you need for career advancement through volunteer opportunities organizing ASCE activities, conferences and projects.
Make Friends
ASCE opens up a network of; potential mentors, peers with common interests, and potential employers and clients and gives you the opportunity to work with them side-by-side. Statistic: ASCE has chapters or groups in every state and major city and members in 176 countries. Statistic: 35% be among peers but also engage with civil engineers from every career stage and sector.
Build and maintain lifelong relationships with classmates, teammates, and colleagues through ASCE events and our extensive online network; Statistic: our Facebook page is liked by more than 300,000 followers.
Explore the breadth of civil engineering and find your niche; Statistic: ASCE has technical institutes representing nine civil engineering disciplines. Membership in yours is free.
While you are working hard to build your career and your life, ASCE makes it possible to pursue your interests in community service through outreach programs in your local schools and in communities in need both here and abroad.
Shape the Profession
Younger Members can shape the profession and develop personal skills by choosing opportunities that fit their own interests, availability, and aspirations.
Members age 35 and under make up 35% hold leadership positions throughout the organization.
Getting involved with ASCE is easy; Your local ASCE group is eager for your participation whether for a single event, on a committee or as a leader. Statistic: 30% of Section and Branch officers are age 35 and under. Our volunteer page helps you choose from hundreds of technical, leadership or service opportunities that fit your schedule and interests.
ASCE is the voice of the profession. Through ASCE you can shape public policy to build healthy and safe communities.
Follow PSU-ASCE student chapter on social media