Dean's Message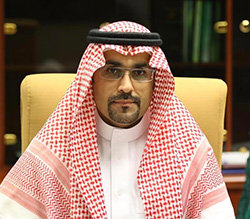 Welcome to the College of Humanities & Sciences at Prince Sultan University.
The College of Humanities & Sciences (CHS) at Prince Sultan University provides students with an engaging, high-quality educational experience. Learners are offered the needed skillsets and knowledge to explore various subjects related to various cultures and understand the diversity and complexity in the language.
In addition to catering general university requirements to all PSU students, the CHS currently offers two BA programs: Applied Linguistics and Translation. The Applied Linguistics program provides students with two main tracks: Teaching English as a Foreign Language (TEFL) and English Language for Professionals (ELP). The Translation program develops students' competence in translation and interpretation. All programs have been accredited by the National Commission for Academic Accreditation and Assessment (NCAAA) since 2017.
Our faculty members are accomplished professionals of both practitioners and academics who bring a wealth of extensive academic experience across a broad spectrum of research interests in humanities. With strong links to businesses and public sector bodies, the faculty provides practical, real-world learning that prepares students to become the change-makers of tomorrow.
We pride ourselves on our successful alumni who are equipped with the entrepreneurial, creative, and agile mindset needed in today's dynamic workplace. With top-notch skills in languages, communications, and research, our graduates are some of the highly sought candidates by employers in the Kingdom.
Our students' career prospects are limitless as more opportunities continue to emerge within both the public and private sectors under Vision 2030, including education, business and investment, media and journalism, and tourism and culture – only to name a few.
We cordially invite you to learn more about our curriculum and teaching methodology by exploring our programs. We are always thrilled to meet new bright students every semester, and I look forward to welcoming you aboard.
For all inquiries, please contact our admissions office.
Sincerely,
Prof. Mahmoud S. Al Mahmoud, Ph.D.