PSU Sports Facilities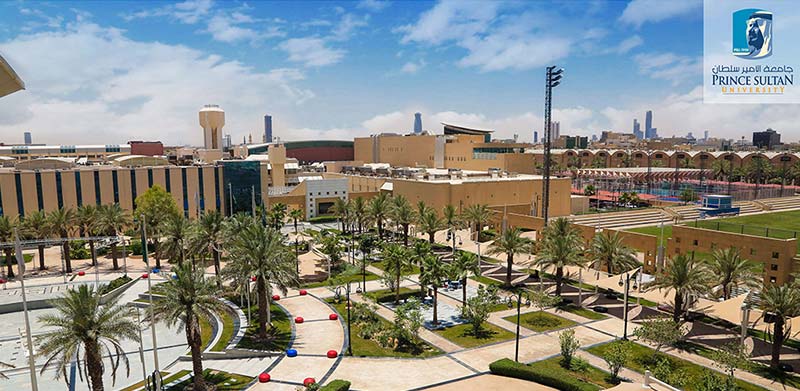 Sports and games play an essential role in shaping a well-rounded personality and maintaining goodhealth. They directly contribute to the physical development of students and, together with other co-curricular activities they support the excellent results of Prince Sultan University community members. Furthermore, in line with its vision to become the leader in all academic aspects, PSU provides students, faculty members, and staff with a top-level sports environment that matches international standards and gives an excellent opportunity for a healthy lifestyle and personal growth.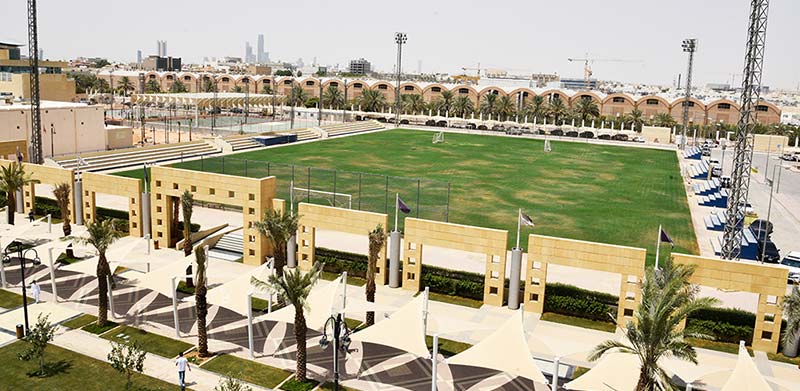 The Sports facilities are located at Building 106 for the Women's Campus and Building 101 for the Men's Campus where both support the need for Physical Education, club training, and other sports events.
PSU-College of Humanities and Sciences (CHS)- the Health and Physical Education section in the General Studies Department(GSD) offers the following facilities.
Swimming pools
Swimming is said to be one of the healthiest sports of all. To ensure a sound mind and body, an invigorating swimming pool where everyone can plunge in is available and free for all PSU students, faculty, and staff members. Within the facility, the University provides a six–lane, 25-meter indoor swimming pool with variable pool depth from 0 to 3, a jumping tower, jumping board, inflatable jacuzzi for the Men's Campus and a figure eight shaped indoor pool with a fascinating open air swimming pool with a depth of 5 ft. at the Women's Campus. Both have showers, toilets, changing rooms, and lockers. The swimming pool is heated to a constant 29ºc and staffed by qualified lifeguards. The quality of the water is checked daily.
Indoor Fitness Gym
Fitness Facilities
PSU students, faculty, and staff have unlimited access to a modern fitness center located on the 1st the floor in building 101. It consists of two fully equipped areas that maintain regular hours throughout the year and is enjoyed by professional athletes as well as by recreational practitioners alike.
Weight Lifting Room
The Weight lifting room features strength weight training equipment, weights and includes platforms with drop zones, dumbbell racks with customized dumbbells.
Cardio Room
The Cardio Room equipment is positioned in a spacious air-conditioned room with treadmills, ellipticals, stairclimbers, rowing machines, spin bikes, and stationary bikes. The treadmills, ellipticals, and stationary bikes all have personalized displays. Use of the cardio room is free for students, faculty, and staff. All members, as well as occasional visitors, need to register and show your ID when entering the facility. During regular classes or varsity teams training sessions only the students of the respective sections, varsity team players, HPE faculty members, staff, and Varsity Teams Coaches are permitted to use the Weight Lifting and Cardio Room.
Indoor Sports Court
Multipurpose Gym
Basketball, Volleyball, Mini football, Handball, Badminton

Team sports and racket sports are enjoyed by a considerable number of students. For these activities, PSU offers a well-equipped multipurpose gym located on the ground floor, building 101. This Gym can be easily converted and adopted for many indoor sports.Besides the regular basketball, handball, and mini football court, it can be used as a volleyball court. Moreover, six official-sized badminton courts can be fixed easily. The gymnasium is available from the early morning time till the evening, and it hosted many tournaments and championships.

Each student is encouraged to join the sports club to participate in the different sports training. Basketball, volleyball, badminton, soccer, table tennis, and handball tournaments are organized to develop the spirit of healthy competition among the students.
Table Tennis Rooms
As one of the university's most popular sports, table tennis is played by many students, faculty members, and staff all day. PSU has a dedicated table tennis coach and a well-equipped GSD HPE Department to help the table tennis players in every way they can. Table Tennis Rooms are in permanent use, and they host students during class hours, and after classes, they serve the Varsity Teams and recreational players.
Bowling Center
Sports play an important role in student's life, for it teaches them life skills such as teamwork, leadership, patience, and the self-confidence that trains them to face different challenges in life. Prince Sultan University being one of the prestigious universities in Riyadh specifically constructed a sports facility that equals international standards to give our students and staff an enjoyable experience. Our facility is furnished with a basketball court, table tennis rooms, squash room, aerobics and machine rooms, swimming pool, and bowling center that are provided to them on the Campus.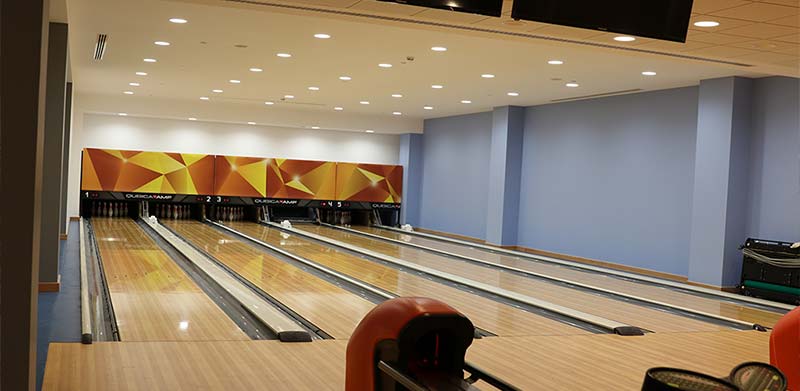 Squash Courts
Another sport that attracts the masses is squash, and for the students of the Prince Sultan University are no different. The infrastructure related to the game includes the two air-conditioned squash courts. These courts serve during the off hours as a space for table tennis or are also enjoyed by martial arts too.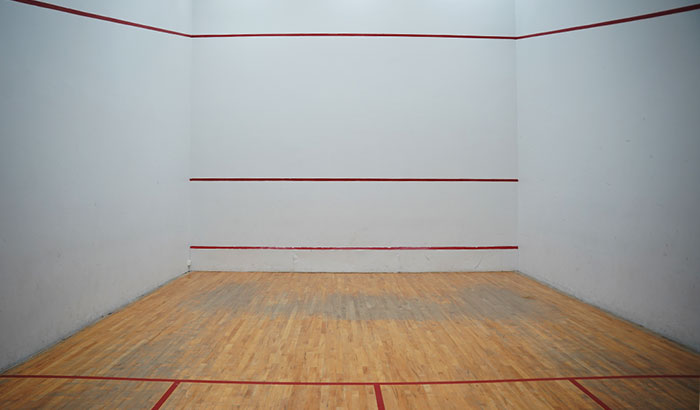 Outdoor Sports Court
Every PSU student, faculty, or staff member is encouraged to participate actively in outdoor activities. Weather in Riyadh allows the sportsmen to play outside all year long. Prince Sultan University has set up outdoor facilities for Football, Tennis, Handball, Floorball, and Paddle. Thanks to these premises, PSU keeps organizing inter-college sports tournaments to develop a spirit of healthy competition.
TENNIS COURTS & Handball/Floorball Pitch
Prince Sultan University offers one professional tennis court and a shaded training court, which are located next to the football field. The outdoor courts have to floodlight for evening use and are covered by particular flooring. Both courts are easily convertible to a handball court or floorball pitch. Good weather and regular maintenance allow playing to continue year-round.
Outdoor Sport Field
Football Field
The university campus has a football ground with original well-maintained grass for one of the most widely played and followed sports in the world. A vast number of players enjoy football games and tournaments. Besides the regular classes and co-curricular activities, this football field hosted national and governmental tournaments. It is one of the few football fields with natural turf, professional irrigation, and artificial lighting.
Clinics
Physiotherapy Clinic
Prince Sultan University offers its students, faculty, and staff members not only the joy of sport but also excellent medical, rehabilitation, and recreational care represented by the physiotherapy clinic. This professionally equipped clinic staffed by the top physiotherapist helps to restore movement and function when someone is affected by injury, illness, or disability. It also helps to reduce your risk of injury or illness in the future. It takes a holistic approach that involves the patient directly in their own care. This clinic is open on a daily basis and is free of charge.
Nutrition Clinic
PSU nutrition clinic provides nutrition and fitness counseling for individuals and group nutrition education that helps prevent civilization diseases and supports optimal health and medical illness management. All services are free of charge.
Psychological Advisory Clinic
The Psychological Advisory Clinic is staffed by a specialist who provides the service for students, faculty, and staff members experiencing significant mental health difficulties. This clinic offers guidance and support as well as the "mental first aid" therapy. Like other clinics, PAC provides its services for free and is available five days a week.