Qemah Program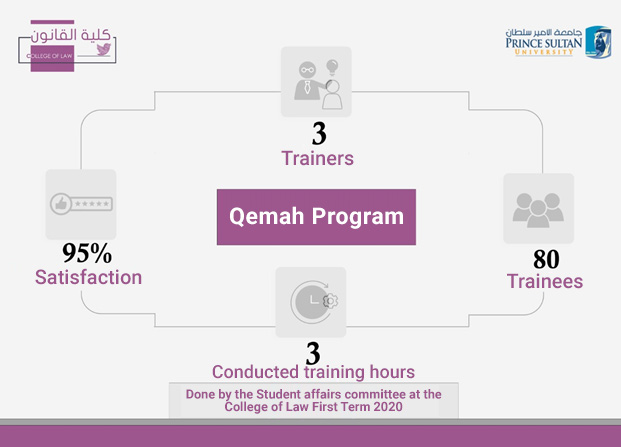 The Student Affairs Committee believes in the importance of university life for our students, and the extent of its impact on the personality of students and their scientific and practical life, so it seeks through its programs and in parallel to achieve the strategies of the college and the university, and the Kingdom's vision 2030 in all its activities and tasks, striving to provide everything that achieves this, whether through student activities And overseeing the college's student clubs (Law Club - Integrity Club - Book and Coffee Club), and by offering workshops, competitions, events and initiatives for the academic community, the Student Affairs Committee launched an initiative entitled (Value), which aims to promote university, human, religious and ethical values among college students and students. Law at Prince Sultan University, in cooperation with an elite group of faculty members and distinguished cadres from the local and international levels.
The committee organized a series of lectures and workshops over a period of three days in the period from 23-25 / 11/2020 AD.
Value of Good Behavior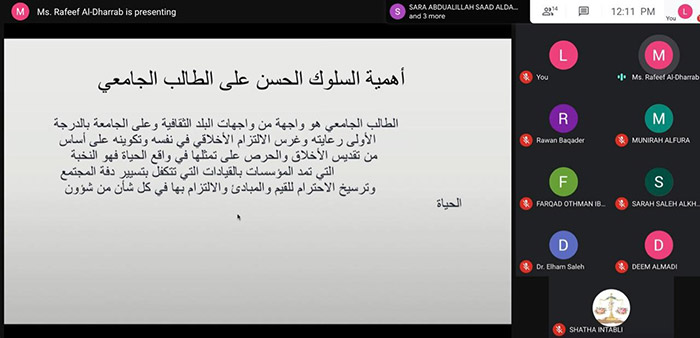 The instructor discussed the importance and value of good behavior in students' life, how commitment to that value affects students in their academic life and subsequently their future careers. The lecturer clarified the value of good behavior, defined its standards, and identified desirable and undesirable behaviors. In addition, she clarified the methods and means that help develop and maintain good behavior. Finally, she opened the door to a more productive and focused discussion with the attendees.
Know your trainer: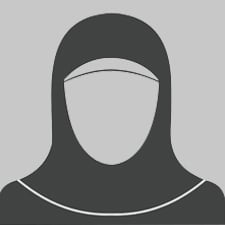 Ms. Rafeef Al-Dharrab
Lecturer
Rafeef is a lecturer at Prince Sultan University Saudi Arabia – Riyadh. Rafeef has got her master's degree in International Business Law from the Unites States – American University- Washington DC 2014.
Rafeef has been teaching in the college of Law since 2015 until now. Rafeef teaches both joiner and senior students on various law courses such as legal writing, administrative law, judicial system and pleadings. Rafeef has special research interests in the field of Commercial Law.
The Value of Respecting Time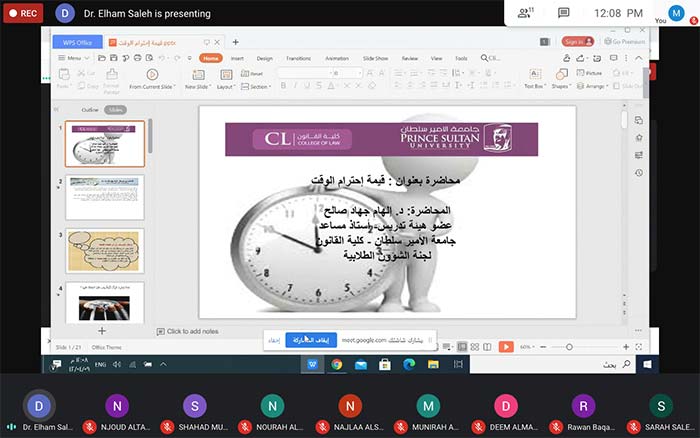 The trainer proposed four main ideas that the university student should use in his life, through which he expresses his respect for time, makes him appreciate its value and improves its effective management, whether on the personal, university, social or professional level, starting with highlighting the skills of time management and investing it effectively, And highlighting the best successful methods and means for effective time management, explaining the reasons for wasting time, and finally, the best and most successful means of the time management process and its investment, especially the preparation and study time for tests and their performance, were discussed.
The session was a success, thank God, and the attendees interacted with it beautifully.
Know your trainer: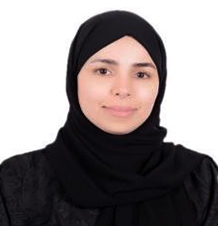 Elham Jihad Saleh, PHD
Assistant Professor of Commercial Law
PhD in Commercial Law from the Arab Republic of Egypt - Cairo - Ain Shams University 2019, she holds a Jordanian law firm license, Dr. Elham specializes in private law (commercial law) and has research interests in the field of commercial law, commercial contracts, commercial companies, international trade, finance Islamic.
She previously taught at Princess Noura University, and is currently teaching at the College of Law at Prince Sultan University in Riyadh
The value of commitment: Students' rights and duties

The lecture explained the value of commitment as a feature of the human being that he cannot separate from, but rather does not want to, and is keen to preserve it. The value of commitment is embodied in his thinking, behavior and perception.
Commitment is the representation of Islam and its implementation. Therefore, university students who represent one of the most important pillars on which society relies in building the future, achieving interaction with intellectual, scientific, cultural, economic and social variables, and adapting to their developments and then laying the foundations for renaissance and sustainable development, must know their rights And their obligations in accordance with the dictates of the bylaws and regulations of the various academic institutions.
Know your trainer: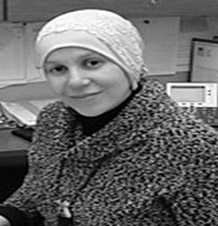 Dr. Ouarda Belkacem Layachi
Associate Professor
Dr. Ouarda Belkacem Layachi is an Associate Professor in Law who joined the College of Law at Prince Sultan University (PSU) in 2018. Dr. Layachi has had a long experience in teaching (17 years) in different Arab Universities. Some of the courses she taught are Public International Law, Civil Law, Human Right, Criminal Law, Maritime and Air Law, human rights, , Public international law, Administrative Law, Administrative judiciary, Administrative contracts , and Constitutional Law, Dr. Layachi obtained scientific degrees in several specializations as follows: PhD in public international law, PhD in Political Science and International Relations, Master's degree in public international law, Master's degree in political science and international relations, Diploma of Professional Arbitration:" International Commercial Arbitration, Bachelor in Political Science International Relations, Bachelor of Law. Dr. Layachi is also a member of the internal and external audit team of the National Authority for Quality Assurance and Academic Accreditation in the Kingdom of Saudi Arabia. She peer- reviewed several programs and contributed to accrediting different programs at reputable universities.