The United Nations Global Compact Network - Saudi Arabia, and Saudi Arabia's Prince Sultan University (PSU), signed a memorandum of understanding to form a strategic partnership to advance the UN's 2030 Agenda.
The partnership aims to strengthen efforts towards advancing the UN's 2030 Agenda by engaging higher education institutions. The UNGC through various efforts seeks to enable sustainability in the private sector. Additionally, UNGC by partnering and collaborating with academic institutions such as PSU, it reinforces its belief in the power of education, which is also in line with Vision 2030, to narrow the knowledge gap among Saudi youth as well as strive to educate them on responsible business behavior and promote a concrete understanding of diligent corporate management and how a business can be part of the solution to the challenges of globalization and its impact on the ethical, social, environmental, cultural, and economic dimensions of doing business. Fundamentally, this partnership intends to not only expose students to corporate sustainability but also develop their business acumen and intuition to become stand up corporate citizens that consider sustainability part and parcel of a successful business enterprise. In essence, such partnerships, allows for the opportunity to prepare the younger generation to become future business leaders that are part of the innovative solutions to the challenges we face, and that corporate sustainability attempts to address.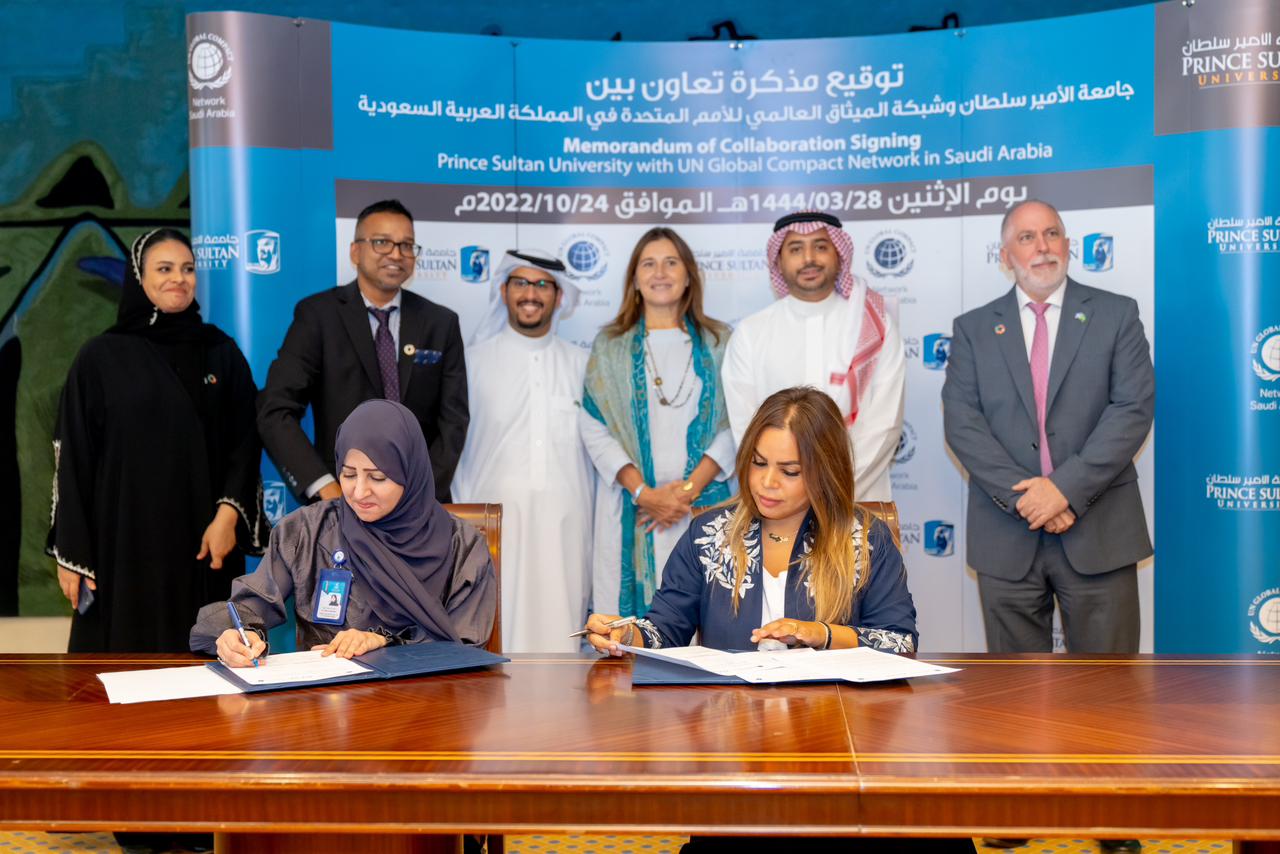 Ms. Maryam Telmesani, Chair- UN Global Compact Network - Saudi Arabia, commented, "The strategic partnership with Prince Sultan University will definitely curate an experiential learning journey for students focus on sustainability. Through the partnership, we are confident about translating our sustainability ambition into tangible action in Saudi Arabia, inspiring the youth to lead as ambassadors of sustainable living."
Dr. Ahmed Yamani, President of Prince Sultan University said, "PSU is committed to applying the UN SDG 2030 in line with Saudi Vision 2030. Our strategic partnership with United Nations Global Compact demonstrates our continued SDG commitment to work closely with international stakeholders and positively impact the community. PSU is truly proud to be directly linked to one of the milestone changes in the Higher Education System in this country, and that is the future of private higher education."
Professor Mohammad Nurunnabi, the Director of Center for Sustainability and Climate (CSC), Aide to the President on Ranking and Internationalization, commented, "We are proud to partner with United Nations Global Compact, given their significant commitments on sustainability. This partnership aligns with our vision to provide the Middle East with quality education of the highest international standard, and our commitment to Saudi Vision 2030. We're delighted to come together to provide tangible solutions to combat sustainability challenges and accomplish SDG 2030."
-Ends-
About United Nations Global Compact Network - Saudi Arabia
The United Nations Global Compact Network - Saudi Arabia helps on sustainability journey, by enabling your company to build trust and transparency, achieve your sustainability objectives and help shape Saudi's sustainability agenda. Through the support of the UN Resident Coordination Office, we will be able to mobilize a movement of sustainable companies and stakeholders which will contribute to the achievement of the Global Goals. There is an important opportunity for the Saudi private sector to make a meaningful contribution to the United Nations 2030 Agenda. Launched in 2000 as a special initiative of the UN Secretary General, the UN Global Compact provides a framework for developing a more sustainable and responsible business. Today, the UN Global Compact is the largest corporate sustainability initiative in the world, with more than 11,000 companies and 3,000 non-business signatories based in over 160 countries, and more than 60 Local Networks. The mission of the UN Global Compact is to mobilize a global movement of sustainable companies and stakeholders to create the world we want. With easy access to authoritative guidance, training, tools and support, along with global reach and multi-stakeholder connections, the UN Global Compact enables businesses to achieve their sustainability objectives.
https://www.unglobalcompact.org/engage-locally/mena/saudi%20arabia
About Prince Sultan University & Center for Sustainability and Climate
Prince Sultan University (PSU) is the first private non-profit institution in Saudi Arabia. The Center for Sustainability and Climate (CSC) of Prince Sultan University is committed to the United Nations Sustainable Development Goals (SDGs) through effective institutional resources management, innovative teaching and learning, research, national and international partnerships, continuous studies, and outreach. The mission is to support Saudi Arabia's Vision 2030 and the PSU's strategic directions, CSC transform commitments into action and build a decarbonized, more sustainable world, driving technological and economic transformations to realize sustainable competitive advantage. To coordinate, promote, and accelerate interdisciplinary research and training on sustainability and climate, and the role of humans in the environment. Prince Sultan University is the First Saudi University to Pledge Net Zero Carbon University by 2060. PSU Ranked 2nd in SDG 17 in Saudi Arabia according to THE Impact Ranking 2022 on SDG.