Exhibitions & Events
Productive Family Exhibition
Under the patronage of HRH Princess Noura Bent Mohamed Al Saud: Productive Families Exhibition is an expo-oriented exhibition hosted by Prince Sultan University-Women Campus in collaboration with Riyadh Chamber Commerce. This promising event opens up doors of opportunities for small businesses of the community to find great business opportunities. Riyadh chamber for commerce and industry in cooperation with PSU, give a considerable attention to women who are working from home especially widows, divorced, and poor women to help them to sustain their micro-projects, as a key source of generating income, and turn them into productive energy in the community, rather than just recipients of subsidies.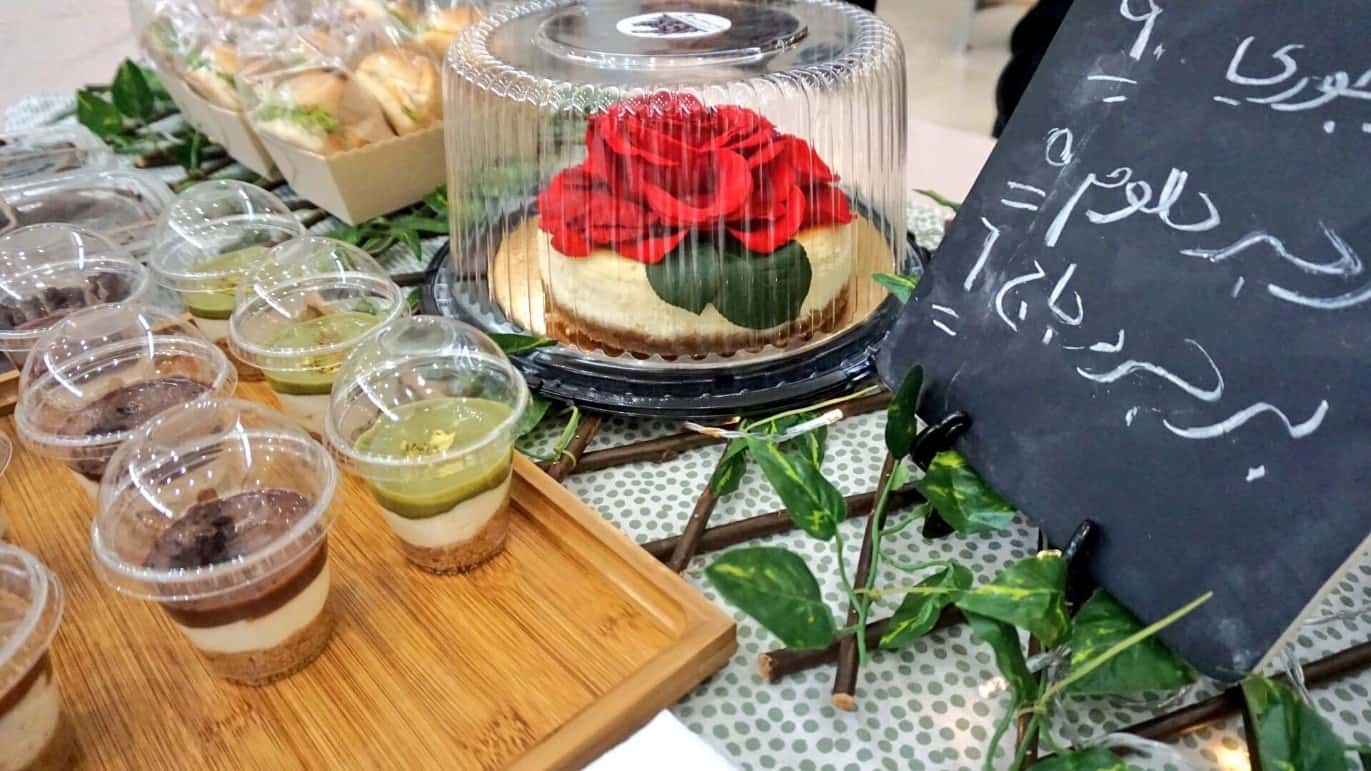 This kind of home business needs a lot of support and subsidies from different institutions in the community. PSU as a lead private university represented by finance department outreach committee and community services office collaborated with Riyadh chamber to support this kind of micro-business through productive families exhibition to market their product to be able to survive in a very competitive environment and two workshops related to how to manage your business which increase women's' awareness. 28 business women from home business join the exhibition and 20 female visitors join the workshops Instructors.
PSU Street Fair
In accordance with the Community Services & Continuing Education Center's (CSCEC) mission and vision to enable our students, families, and business community to improve their lives through distinctive projects and social activities focusing on and creating real benefits to fulfill people needs and wants, CSCEC organized its first fair named "PSU Street Fair". Our main objective is to cater to the need of the Saudi community and adopt the "Fair" trend as well as to showcase the flourishing efforts of the Saudi community and open doors for young Saudi talent. Moreover, the aim of this event is to align its objectives with the initiatives of the 2030 Saudi vision. PSU Street Fair is an event that celebrated the character of our University. As its name suggests, it was held on the streets of Prince Sultan University- Men's Campus. The event was open for families and individuals of all ages. It was held during a weekend; February 17 and 18, 2017. The fair offered an eclectic mix of activities and events at each end. The fair featured great games for both adults and children. PSU Street Fair celebrated local talent and artistry. In addition, local food trucks and stations, non-profit organizations (Bunyan) and small businesses took the opportunity to join the fair and be known in the community.
Career Expo
Career Expo was held under the patronage of Her Royal Highness Princess Madawi bin Musaed Bin Abdulaziz AlSaud, Deem AlManahil CEO where all entrepreneurs female from public have the opportunity to be supported in her business. Our main strategic sponsor for SR100,000 was STC followed by a Co- Sponsor Taqniyah. Career Day was held this year on 9-10-11 of April 2018, from 10:00am-2:00am and 5:00pm-8:00pm.
Career Expo allows job seekers to find job opportunities that suit their qualifications. It also gives employers from all entities the chance to communicate directly with this segment of society in order to fulfil the contribution to the service of the community in a constructive way for this country. Also it engages the exchange of experiences between employers from different government and private sectors under one roof, which is "Career Expo".
Tamheed
"Tamheed is a program of Psychometric Assessments that are a scientific method of evaluating an individual's abilities, personality traits and interests. They have been proven to help users make more objective and informed decisions in many areas including recruitment, selection, training, development, and career guidance. This unique, valuable resource is now available to workforce development initiatives and career centers throughout the Arab world. Tamheed utilizes two distinct types of assessments to measure different aspects of each candidate's ability: cognitive and personality. Tamheed helps students become aware of their personal skills, qualities, aptitudes, and interest to make the most of their educational choice career path. " Eleven workshops and activities were accompanied with Career Day such as; CV Screening, Mock Interview which mainly focused on strategies of looking for a job as well as improving career required skills for the job seekers in Career Day. Those workshops and activities are also aiming to open doors and opportunities for joining new various fields as including several subjects that will benefit the job seekers male and female.
Law Exhibition
CSCEC collaborated with Law Department in this exhibition. The exhibition included a number of important issues and how to deal with them legally. There were regulations related to the added tax on goods and services and their importance to the economy and the cooperative insurance system. There was also a special section concerning the academic level of female students and how to address the low rate in meaningful and influential ways.
Open Day
Prince Sultan University's role as an institution places priority for their faculty and students, thus providing them with not only educational value but also a recreational element of entertainment. In accordance with Dr. Rimah Al-Yahya's direction to host an Open Day for the female campus at PSU, we at the Community Service & Continuing Education Center (CSCEC) and the Public Relations Center (PR) collaborated together to host this unique event. The main objective was to provide a fun outing for PSU's female staff and students on campus. Open Day was held on Friday December 15, 2017 from 4-8pm. The location of the event was on the outdoor area of Men's Campus. The event was exclusive for PSU-CW members and offered a mix of games and food varieties. The event featured great games for both adults and children. Furthermore, coupons were given to the PSU staff members as they signed their names at the registration table. Each coupon was worth 40 SAR.
Masar
Masar is the first Pre-College Program in the Kingdom of Saudi Arabia designed for high school students to experience college life, prepare for academic success, and explore options. It is based on workshops for various majors to help students decide which majors they should specialize in. It was initially proposed by Ms. Nafla AlKahtani's students as a class project. It was then implemented successfully in collaboration with the Community Service Office. It was implemented in the spring semester of 2018.
On the closing ceremony (last day) we announced all the graduates' names that have completed Masar and presented them with a certificate of completion. In Masar 4, Ms. Fatin Al-Mobarak, presented the certificates to Masar participants. We added Tamheed to Masar4, by which students took a personality test and were presented with their results and career advice from Tamheed Advisor, Ms. Fatin Al-Mobarak.
Hike for a Cause
Sites outside the city are affected by waste overflow, as fewer official cleaning services are implemented outside major cities. Our aim is to organize a hike with the primary objective to clean up these places and recycle the waste responsibly while showcasing rural Riyadh to local and foreign hikers. We were able to collect 80+ bags of waste from the location that has been transported to a recycling facility.