CSCEC established this unit to build the community by the community individuals themselves in providing free courses taught by PSU faculty or students. This will improve the knowledge of society individuals and make them feel more productive toward their community as well.
Community Bounding
Mishkat
(Annually 2012-2017)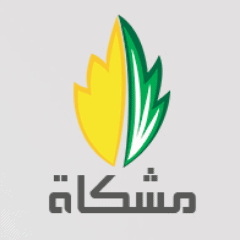 Is a charitable idea by two PSU-IS students wanted to help community with their technological knowledge as senior students. By following CSCEC vision to meet community needs, since that time Mishkat was the most popular project among society and PSU students as well where they found Mishkat as an opportunity to express their talents in teaching Charity beneficiaries who are in the same of their age. The last batch held as 7th one called, Mishkat Academy from (October 9th to December 20th, 2017. )Mishkat Academy was a 3-month program open for both male and female citizens of need in our society. It consisted of teaching basics of: Computer, English, Law, ID, and soft skills courses. It was offered to poor, orphans, and widows of community to help provide them with necessary skills to get job opportunities. Aside from benefiting the charity members, Mishkat has enriched PSU students with a real work experience where they discovered their personalities as teachers. As outcomes of this huge purely charitable project, most of Mishkat graduate have got their own job opportunities rather than waiting for financial support from charities. The rest of them have started their own small business in a professional way as being able to design their own logos and business cards. On the other hand, PSU students as well have discovered their inner ability to be great young teachers and chose teaching as their career path once graduated.
Joud
(Every Semester from 2015 to 2016)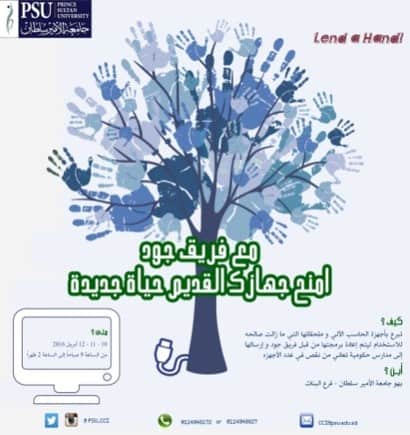 Joud is a charitable project which held every semester three several times on a row, the last one was in April 10th, 11th, and 12th 2016, where individuals from community participate in donating electronic devices to CSCEC who will seek for the unfortunate schools to fix and deliver the devices. In accordance with the vision of CSCEC to give back to community, Joud implemented at PSU campus by collecting computer parts and evaluate their quality by PSU CSIS faculty and students in dividing the drives into different sections: monitors, PC's, printers, tablets, keyboards and mice. Once the drives are fixed and ready to be used, CSCEC organized a trip to donate the computers. The last outcome from Joud was furnishing a newly established computer lab for a government school where Joud took an initiative of delivering and setting the fixed devices there by PSU students and provide a plaque as well on behalf of PSU in memory of Joud.
Elderly Program
(Annually 2016-2019)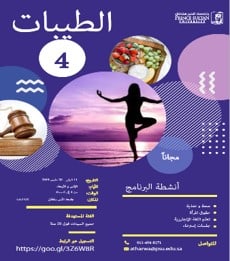 As part of CSCEC mission and goal to provide programs and resources to all community individual categories to become productive citizens and empower elderly to identify their strengths and passion, CSCEC has conducted several elderly programs which targeted elderly women from our society who are above 50 years old to enrich their lives and free times with knowledge and entertainment at the same time as a reward to this age citizens after spending their years and efforts to build their society, raising their children, and being productive ones. As a rewarded and appreciated initiation CSCEC well-designed customized several courses for free upon their suitable times with few hours and days provided by PSU faculty and students and the last batch of the program was focused on health and nutrition, learn basics of English language, gain skills like Pottery, make use their time and relax, meet new friends and become active individuals of society.